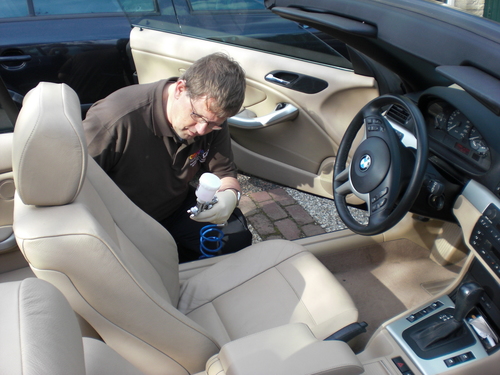 Frequently Asked Questions and Financial Planning
Q. What does my initial investment include?
A. Your investment includes an exclusive Color Glo Territory, 3 weeks of Color Glo technique & marketing training as well as product knowledge, complete Color Glo line of products and equipment start-up package, custom vehicle decals, marketing and printed materials, registration to be a certified warranty service technician, use of all of our Color Glo Display booths and banner stands, admission to all of our exclusive Color Glo seminars and workshops, access to our franchisee only online technical forums, online manuals, training videos, technical support and much more!
Q. After my initial investment, what other monies will I have to spend to get started?
A. Your investment provides for training and required equipment and inventory. However, as with any business you should have access to a certain amount to cover your start-up. Usually this is within 30 to 90 days.
Q. Do I need a truck to carry all the equipment necessary for work?
A. No! However, Color Glo recommends a minivan or pick-up with topper to provide visual impact and simplify access to your materials.
Q. Would I have much competition?
A. No! Competition is very limited.
Q. What do car dealers do now with a used car "taken in on trade"?
A. Generally, they send it to a "detail shop" for interior cleaning and exterior washing and polishing. Detail shops cannot re-dye sun-faded fabric, leather or vinyl materials, nor completely remove bad stains. Dinged bumpers, the odd exterior scratch are easily taken care of. This is our specialty and dealers regularly call on Color Glo franchisees to correct any used car interior or exterior problems prior to vehicle resale.
Q. Where besides the automotive market can I make Money?
A. Anywhere you find leather, vinyl, plastic, fabric or fiberglass. Today, besides improving vehicles of all types, Color Glo ® offices nationwide have been authorized as the warranty service agents for national furniture wholesalers and retailers. Automotive dealerships are not your only source of income! When you become a Color Glo Franchisee, we register you with our national warranty service providers. So, if a piece of furniture is purchased and the customer adds the extended warranty, when a problem occurs that is within the warranty guidelines, the warranty comp[any calls a Color Glo franchisee that covers that area. Additionally, consider RV and ATV centers. These typically carry not only new but also used inventory which require interior re-dye and restoration or exterior blemish repair. Color Glo franchisees also service marinas. Whether it is a used boat that needs marine vinyl repair or re-dye, or perhaps mold and mildew restoration, this is where Color Glo comes in! Customers often need their boat interiors cleaned and restored both before and after winter storage and more! Look around you – there are restaurants nearly everywhere and often they have booths, stools and seating covered with vinyl. This vinyl can be worn, torn and faded over time. Color Glo can correct this and at half the cost of replacement!! The sky is truly the limit when it comes to service markets. If you can envision it as being a potential client, it likely is and money can be made nearly everywhere!
Q. What type of profit should I expect?
A. Due to not being overwhelmed with overhead, as in most businesses of today, you will be retaining 75% to 90% of your receipts.
Q. OK! Now what?
A. Check this out today. Although there are a limited number of areas available we feel it is important for you to have all the facts. Call our franchisees and speak first hand to individuals experiencing the quality and standard of life you desire. Then call Color Glo Canada and discuss your interest and market availability with one of our Market Development Specialists. It's your future, don't just spend it watching others succeed.

Once you have elected to include Color Glo in your future your business package includes:
Your own exclusive and protected market to develop the full Color Glo business in. This means you are the only Color Glo operation in that area and all work whether it is referral, wholesale, retail or warranty is directed to and serviced only by you. The Color Glo market share in your area along with all the income derived from that market share is yours and yours alone! Since you know your market we like to receive your input into what will make the best area for you. While many of our professional Color Glo operators enjoy the freedom of being an owner operator and work within an area of between 300,000 to 500,000 in population we also have those that are interested in a multi-unit operation and are open to discuss larger areas with the right partners!
All of the exclusive and proprietary Color Glo products that have made us the most recognized and relied upon restoration service business in this industry.
We provide you with high quality equipment that is available to insure you and your business are successful.
Product and equipment alone will not provide you success, with these you need the training and expertise that can only be provided by a company that has successfully trained hundreds of successful individuals throughout the US, Canada, and internationally. You are provided with our certified and comprehensive Color Glo training which is held in our own training facilities. We pay all your training costs and also your accommodations during training so you can concentrate on learning. To insure your training is cutting edge and always current our trainers are also our franchisees that are working daily in their own markets. This brings to your training real time experience, you are not learning based solely upon theory you are in fact learning based on experience both in the business as well as in the field. During your training you are guided through our exclusive Certified Color Glo Training Program. This includes everything from products and their respective uses and make up to the art of achieving a perfect result every time. You will be learning to understand the many varieties of leathers and plastics. We will teach you the right way to see and understand color. The best way to learn Color Glo is hands on and you will spend three weeks at our training center mastering all that makes Color Glo the exciting and rewarding business it is. When you leave our training center you will understand the art that is Color Glo and will be ready to give your own clients what we like to call "The WOW Factor"
At Color Glo we believe that success is a journey and not a destination and that there can never be "too much" training or information so you will have access to the most advanced and comprehensive online training manuals and videos available. In addition you also will receive ongoing training as needed not only from other Color Glo'ers that are part of the Color Glo Advanced Training and Support Group which is made up of seasoned pros all available to provide you answers to any questions you have, but also from our Regional and International training seminars.
Our commitment to your success starts as soon as you begin your career with Color Glo and we provide you ongoing support in the form of advertising, market share development, social media, web design and maintenance, new product development, new techniques, seminars, newsletters, and much much more!!
With an investment range that starts as low as $45,000.00 and a market and client base that is unlimited, Color Glo Canada will provide you not only a quality of life others will envy but also the income and time to enjoy it. Is it any wonder that Color Glo has repeatedly been ranked highest by national publications as well as being named a WORLD CLASS FRANCHISE?
It is your future, so if you are ready to take control of it we are ready to talk.